My mini summer life list! Remember that?
Annie's Summer "Inspire Me" list

1) Try 5 new (to me) coffee shops

2) Visit 3 new (to me) book stores

3) Take a class

4) Teach myself how to knit

5) Bake a cake from scratch
In July I was itching for new scenery and a jolt of creativity. A bump out of the (albeit minor) rut I felt like I was traveling in. Here's how I fared:
Coffee shops. 3 out of 5. Not too shabby.
1. A funny little place up in Cottage Grove, Minnesota that, amongst get-me-outta-this-car-seat-or-die screams from the punkin, served up a delish bowl of raspberry frozen yogurt. It was a fro yo and coffee shop combo type of place. I went in for coffee, got distracted by the screams, saw the yogurt, and the rest was history. So, maybe this one doesn't really count as a new coffee shop? Hmm.
2. A trendy place in midtown Kansas City. It was occupied with quite a few self-employers with laptops when I visited, which was interesting because it didn't seem too comfortable of a place to work. Anyway, I walked in carrying a car seat, ordered a decaf, and felt like all eyes were on me. The barista had on a tshirt that said "Only your Mom drinks decaf." Yeah. Weird. They served me up a delicious, perfectly bitter mocha, though, so I guess we're even. Once I was back inside the safety of my car, I smiled and shrugged about the oddness of it all.
3. A mom and pop cafe in the old "downtown" district of a landlocked Kansas City suburb. Now THIS place I could get used to. Super friendly service, tons of tables with just enough ambient noise to differentiate it from a library, but serene enough of an atmosphere to focus on anything work-related you would ever need to. Not that I worked while I was there. After ordering my mocha I spied a cinnamon roll in the display case. I had to have it (duh) and babygirl and I relaxed in a booth while mama got her sugar rush on. Exploring a few new coffee shops was worth it for this find. Score.
Book stores. 3 for 3. Yes!
1. A family excursion to the park was perfectly extended with a trip to the highest profile private book store in Kansas City. You know, "the store" that gets all of the ungetable author events. A hardcover will cost you more than a steak dinner, but the service and the atmosphere make stopping in worthwhile. Dozens of signed posters from all of their author events supplied the proof of their high profile. The only names I can remember seeing were Anna Quindlen and Martha Stewart, but I remember recognizing almost every book cover poster, all prominently displayed high on a shelf that wrapped around the store.
Note: add "attend an author event" to my next list.
2. July 22nd. The lovely, inspiring, jam-packed book store and gift shop at the art museum. More than half of the space is packed with books, so into the book store category it falls. A huge selection of unique art and children's books. As much as I love the children's department at my local Barnes & Noble and all of the memory-jogging titles and authors it includes, it was so fun digging through a shelf of relative unknowns and absorbing the beautiful words and illustrations. I didn't get to spend enough time in the store the first time we went – we had just spent two hours wandering around the museum itself and punkin was cooked – so we returned a couple weeks later to dig further. Worth it.
Also, it just occured to me that this would be a fun place to purchase a gift certificate for birthdays or holidays.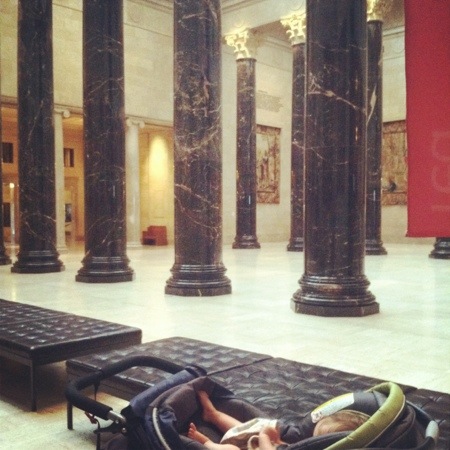 3. A small, private shop in downtown Des Moines, Iowa. It's been there forever, apparently, and while the service is nonexistent, the store itself is cute as a button. They didn't seem to specialize in any category or genre of book, just remaining general and small and quiet. Nice.
Take a class. Done. Kind of.
Does a class for my kiddo count? I tend to ridiculously shy away from the typical mommy-and-me type classes (much to the detriment of my child), but decided to give Gymboree a shot. You know what? I didn't melt, punkin loved it, and I walked away feeling great about having tried it out. I probably won't go back, for no specific reason other than, well, I'm ridiculous, but it has opened my mind to testing out a couple other classes that I think I – and, more importantly, she – would enjoy. Swimming? Music? We're on it.
Re-reading that paragraph, it sounds silly that attending this one class was such a big deal. But for a new mommy, it just was. This type of stuff is scary and unknown…and scary.
Knitting. Whoops.
I've bookmarked the YouTube videos and set a reminder to ask the neighbor to borrow her needles, this one's going on the next list.
Scratch cake. Attempted.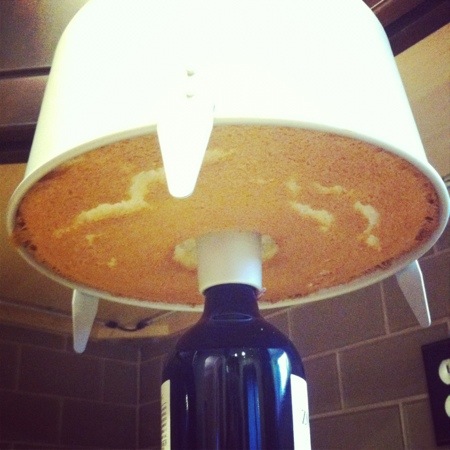 The Great Angel Food Flop. I came, I baked…I wish I could have conquered. I sifted and separated the egg whites and fluffed stiff peaks and baked, I cooled inverted on a wine bottle, I cut into it and…it was disgusting. Damnit! It looked great, but alas, something must have gone wrong in my sifting or folding of the ingredients, as there were giant pockets of unmixed flour, leaving the properly mixed portions of the cake gross, as not all the ingredients were mixed in and the flavor was off. Into the trash it went.
Disappointing, but hey, I could have tried a regular sheet cake and been confident from the beginning that it would have easily tasted fine. Angel food was a challenge, a cake I've loved all my life, and I closed the trash cabinet feeling proud that I even gave it a shot. I'll be back, angel food. I'll be back.
And there you have it! I felt pretty good about my list, even though I left a couple items uncrossed off. (Uncrossed off?) It was fun and it pushed me gently out of my comfort zone, encouraging me to get going on a few things I simply didn't have a reason to jump into before. And I think that was the point. Right?
A good experiment and one I will be repeating. The power of a couple simple goals and a short timeline. Never ceases to amaze, even if those "goals" are mostly just for fun. Creating my list even inspired Hubz to get in on the act, and he crossed off a few life experiences/to-do's/projects he had been meaning to tackle for a while, too.
Up next, perhaps a holiday season list? I haven't been to a tree farm since I was a kid. I've never made homemade hot chocolate. Hmm…
—
Do tell – what've you been working on recently? What new experiences are you hoping to try out?
Hugs,
AS