Congratulations Mollie Jorgensen and Roog!
I randomly selected a couple commenters and you two won the prize: a book of your choice from Amazon.com. There are many, choose wisely.
Winners email me at annie AT anniesorensen DOT com to claim your prizes! Thanks for all of the wonderful responses, everyone.
—
Today…
…because I finished Richard Branson's book this morning and it left me feeling exhausted and unaccomplished… (His attitude towards life and business is unlike anyone else's I've ever come across. Add that to his unique childhood, his writing style, his personal experiences, and his sense of adventure; I closed the back cover, threw it down on the dining room table, and let out an audible sigh. Then I promptly got up and ate some Chex Mix.
Babygirl. She made me do it.)
…and because it's a dreary Monday here in western Missouri…
…and because I just ate the rest of that bag of Chex Mix…
…and because, mostly importantly, I love ya, my five, lovely readers, I'm going to ask you a few questions! And then you're going to answer them! And then, and then, and THEN I might just maybe perhaps if you're lucky be giving away prizes to random commenters.
Are you ready?
Here are your Ask the Audience questions of the day:
1. If you had the week off from work, and you had no other family or household obligations, and if you were going to indulge in a relaxing staycation at home, what would you do all week? Sleeping or catching up on laundry do NOT count. How would you choose to spend your time at home or in your home town if you could do anything you wanted?

2. Chex Mix or Gardettos?

3. Do you have a favorite book? If you're not a reader, what about a favorite blog? It doesn't have to be your all-time favorite, just one you particularly enjoy. If you have one, share it.
Answer away, my friends. In a day or two, I'll draw a commenter or two at random for the giveaway and update the post with the winners.
The prizes will be shiny. And literary in nature. Probably.
In the mean time, my answers to the questions are:
1. The first morning would involve a trip to B&N for a couple girly paperback novels, house decorating magazines, and a newspaper or two. The rest of the week would be spent on the couch with Hubz and the canine (and the iPad) (and my notebook) reading everything, watching movies, talking life and business, and sipping wine coffee. Oh, and never changing out of my yoga pants.
2. Chex Mix AND Gardettos. I…I…I love them both equally.
3. Rich Dad Poor Dad, Roll of Thunder Hear My Cry, Oh The Places You'll Go.
Add your answers in the comments! Can't wait to read 'em. Ready…GO.
To your Monday,
AS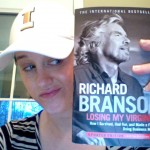 UPDATE: Thanks for the fun and fancy responses, all! Winners will be posted soon.