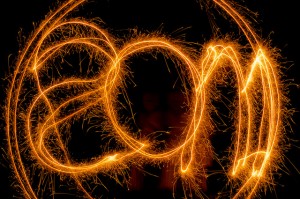 We're a couple weeks past the end of 2010 now, and it blows my mind how fast the year came and went. 2010 was a big year. I quit my job in January, set goals for growing existing businesses and launching new ones, and went to work. All while I shared a few tidbits with you here.
I write because I love to write, I would do it even if this blog was private. However, I never imagined how many amazing entrepreneurs, readers, networkers, employees, parents, friends, and awesome-people would cross my path because of it.
I love you all and appreciate you spending small bits of your precious time with me.
Below are a few of my favorite posts from 2010, in case you missed anything. I hope everyone had an amazing year, and I wish nothing but the best in business and in life for you for the remaining 50 weeks of 2011. Make it great!
Diary From a Classroom
"He's twenty minutes deep into a talk about general warranty deeds and fee simple title and then all of a sudden starts preaching about the business structure of Chick-fil-A. Earlier that day? A comparison between real property and personal property brought about the wonderful portrayal of fatherhood Laura Ingalls Wilder depicts in her Little House in the Prairie series. Don't ask. None of us had any idea either."
30 Things You Didn't Know About Me
"14. I admire bits and pieces of Richard Branson, Oprah Winfrey, Justin Timberlake, LeBron James, Chris Brogan, Bear Grylls, Dean Karnazes, Steven Spielberg, Tim Ferriss, and Melinda Gates.
17. I'm going to live to be 129 years old. Hey-oo!"
How to Stay Motivated to Blog
"Let what's important take the lead. When you're letting the passion drive you, manufactured motivation takes a back seat, you see?"
Why 'Thinking Outside the Box' Isn't Such a Bad Idea
"Molds. Everywhere you go it seems people want to compare you to others."
"Molds scare me. And not just the kind that tends to grow on the walls of our dungeon-like basement."
Why Your Why is So Important
"I've noticed that those who not only have a rock-solid, passionate Why of any kind move forward so much faster, but those who have a Why that has to do with others? They're on a whole other level."
How to Get the Most Out of Reading a Book
"The subject of the book is interesting and applicable to you right now. And you know what? If it's applicable and interesting, it's also entertaining. You've walked the fine line."
Who said?
"People can't change – they can't better themselves or change directions or quit their job – that's not normal, you say!"
You're Too Good for That
"There's nothing better than late-night, sunken-eyed, bursts of clarity. I was struck the other evening with how many people are paralyzed by fear. So much so that they end of doing nothing. They end up NEVER doing ANYTHING."
Blog Comments Need a Better PR Firm
"Poor blog comments. They're old school, unsexy, and rarely discussed."
Book Review: Delivering Happiness
"On the surface, Delivering Happiness gets an "ehh" rating. But – and this is a BIG but, as in, MASSIVE and THEY DON'T LIE – upon closing the back cover and setting the book down, I wanted to be a better person."
The Importance of Connecting
"Spending a weekend connecting, talking business, and taking intentional action with like-minded friends drums up a lot of powerful thoughts. Here's one…"
Entrepreneurs Can Change the World
"Yup, it's a bold statement. Just watch it."
The Power of Time Freedom
"I was burning holes in my esophagus, tasting hot sauces in my husband's honor at a cute little shop that sold nothing but the spicy stuff. And that's when it hit me."
And finally, the post that changed everything:
One Door Closes, Another Opens
"She didn't know when, if ever, the entrepreneurial bug would really take hold. She didn't know then that she'd soon be getting into trouble for awesome things like arriving too late in the morning, taking too long of a lunch break, working from home without telling anyone, and taking too much vacation. Umm, I'm pretty sure that girl should have taken the hint sooner."