Phew, has the buzz about this book been a bit crazy or what!? I'm not sure if it's author Tony Hsieh's frequent and awe-inspiring talks that are catching everyone's attention or the fact that shopping on Zappos.com is just plain fun. Either way, I enjoyed the book that shares the story of how the two came together: Delivering Happiness: A Path to Profits, Passion, and Purpose.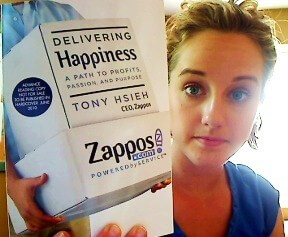 Objectively, the book takes up an average-in-size 241 pages, not including the Epilogue and Online Resources. I found the cover art, frankly, kind of cluttered and annoying. And the quality of the writing? It was…ok. Pretty terrible in the beginning when Tony's describing his childhood and early business ventures, improving a smidge later on when Zappos comes into the picture. Generally, it's pretty fluffy reading. I read the entire book in two medium-ish sittings.
On the surface, Delivering Happiness gets an "ehh" rating.
But – and this is a BIG but, as in, MASSIVE and THEY DON'T LIE – upon closing the back cover and setting the book down, I wanted to be a better person.
I wanted to be a happier person.
In other words? Read it.
And that's all there is to say about that.
P.S. The awesome folks on the Delivering Happiness Book Team graciously sent me 2 pre-release copies of DH. Thanks, DHBook team! I can only hope to have a team with a fraction of the excitement, caring, and connectedness when I release a book someday. (ahem) Cheers!