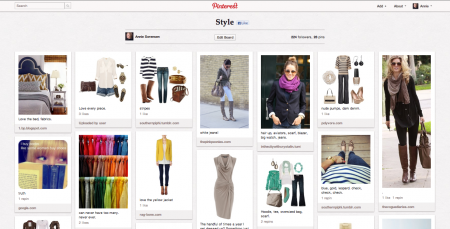 I've been playing around with Pinterest lately and I have to admit, it's kinda fun. Have you heard of it? Have you tried it? If you aren't quite familiar with it yet, Pinterest is a social networking site that acts as a virtual pinboard. You can create boards to "pin" images from around the internet to represent different interests or areas of your life; places you would like to go, recipes you want to try, inspirational quotes you find worthy of keeping, design ideas for your cousin's engagement party. The boards are fun and the possibilities are endless. They can represent things you want, things you already have, or even just things you think are kinda neat.
AnnieSorensen on Pinterest
You can find all of my boards on Pinterest via the link above, but the subject I'm enjoying the most on the site has come a bit of a surprise to me; Style.
AnnieSorensen Style on Pinterest
Maybe it's due to the discovery nature of Pinterest, the fact that the majority of items I pin to my Style board aren't images I found myself but those I found via other Pinterest users I follow, but I have had so many Ah ha! moments related to defining my style lately that I didn't really realize until now were true.
For example, I love scarves. Love love love love love love luhhrve scarves. If you asked me a few weeks ago about my personal style in clothing, it probably wouldn't have occurred to me to mention that I wear a scarf practically every day, ten months out of the year, and feel like I'm missing a limb if I don't have one tied around my neck. One glance at my Pinterest Style board, however, and my love of scarves and their place in my daily style and clothing selections is quickly apparent.
Another realization? I am a t-shirt and jeans kinda gal through and through. Now, I am all about throwing those jeans on with a pair of heels or accessorizing that tee with a long, simple necklace, but boy oh boy do I rarely stray that that uniform.
And Pinterest taught me that. Thanks, Pinterest.
What about you, have you enjoyed collecting and creating boards? Has anything lead to new discoveries or fun realizations? Style related or not, feel free to link to your Pinterest profiles in the comments. I'd love to see 'em.