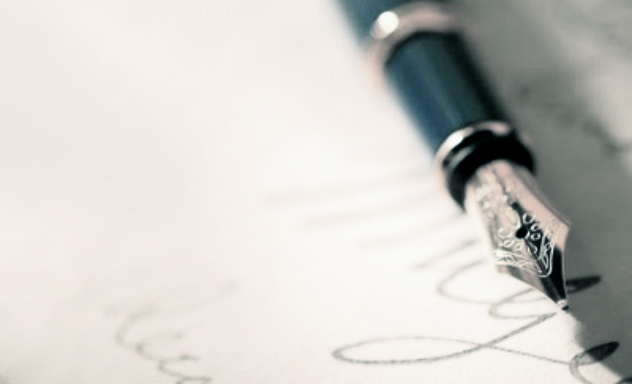 I had a friend the other day say something to me like, "What's with all of this writer stuff? Since when have you wanted to be a writer? I feel like it's coming out of nowhere!"
I can't remember exactly how I responded, but I think I chuckled and mumbled something about the moment a couple years ago when I first realized writing was what I wanted to do.
But I've been thinking more about it lately, how I landed in this place. This, I-will-publish-two-books-by-this-time-next-year, I-contribute-to-awesome-online-and-print-publications, I-have-to-write-something-everyday-or-else-I-start-to-get-twitchy place.
Did I really just wake up one day and suddenly find myself in this position?
I have been adding thoughts to this post for a few days, as funny memories related to my writing progression keep popping into my head. As it turns out, it was full of way more (read: embarrassing) twists and turns that I even remembered.
– When I first started blogging, I talked a lot about social media. It was a new and exciting topic several years ago, and not simply part of accepted everyday life like it is today. I felt like I needed to write about it to stay cool and current. Ha! I eventually figured out that I don't care to talk about marketing or media, so I stopped. Go figure.
– A few years ago I went through a several month streak of writing a short, snarky, detail-filled review of every movie I watched. Hubz and I enjoy watching movies, so I would spend at least 30 minutes in my cubicle the following day (my poor corporate bosses) on that movie's page on IMDB referencing the exact spellings of the main character's name and crafting my review. I never did anything with those reviews other than save them to my hard drive, and after a few months and several dozen reviews, I realized that I enjoyed watching movies but had no interest in talking about them in any formal capacity.
– I wrote a few reviews for tech-related products, like the Beats headphones, and published them here. Again, I thought that this was what people wanted to read. It turns out that people do want to read that stuff, as that post is (frustratingly) one of my highest trafficked posts, but it is nowhere near what I want to write about.
– When Gary Vaynerchuk, the social media and wine guru, was at the height of his new Internet stardom a couple years ago, I got really into recording and jotting down notes about the wines we would drink. As if I knew *anything* about reviewing or tasting wines. I can't believe I did this. I even published some of them to Gary's wine review/social networking site, which I'm pretty sure doesn't even exist anymore.
– A year or so ago I spent some time setting up a profile on Elance. I had done a little research that said it was one of the best places to get freelance writing experience. Daily, I received offers to submit a proposal on certain jobs. I would immediately read each one, and then dismiss it, sometimes based on the pathetic fee they were advertising they would pay, but most of the time based on the subject matter that didn't apply to or interest me. I deactivated my account after just a few weeks. The research was probably right in that it was a good place to get gigs, but it just wasn't right for me. Pushing to write on random topics for random stranges for a one-time fee was not what I wanted, and I didn't realize that until I got into it.
– Three years ago I became serious about carrying around and often writing in a real journal. Two years ago I transitioned that journal from more of a place to jot down notes and to-do lists into a place to actually record my thoughts, feelings, and daily happenings. One year ago I found myself turning it into an actual diary, with dated and time-stamped pages and a feeling like I had a duty to "protect" each page. (I'm weird.) Six months ago I started a journal for my daughter, and I am just as protective about recording things and not wasting that space as I am with my own journal.
– Last fall, on a whim, I signed up for NaNoWriMo and wrote a horrendously awful 51,000 word novel in 30 days. I started it on November 1st, finished it on November 30th, and I haven't touched it since then. I haven't even opened the file! (I'm afraid. I'm very, very afraid.)
– A couple years ago I started a podcast about books, talking out my thoughts instead of writing them. (Episode 1, Episode 2.) After just two episodes, I stopped. I have no idea why, as the feedback I received was pretty great. Big mistake here. Big embarrassing mistake.
I am sure there are many more weird experiences that could be added to this list, but I think I've made my point.
Any journey worth taking is filled with stepping stones. A lot of those stones I wish I could pick up and throw into the deeper water and make them disappear forever. Pretend they never happened. But I have to admit that taking action, no matter how "wrong" those actions seem now, always teaches you something. And I wouldn't be where I am now without having experienced each one of those steps. I'm sure I might even say the same thing six months, a year, five years down the road about the stone I am inevitbly standing on today.
Today, the stone I'm standing on includes…
…writing for a small but mighty audience here on AS.com, where I publish once a week(ish).
…paid contributions to Silicon Prairie News and M magazine.
…paid ghost blogging for the owner of a local small business here in KC.
…paid ghostwriting of two full-length books for clients, one in the healthcare arena and one in education.
…writing in my journal every day. Writing in my daughter's journal every day.
…writing one or two pieces every week that I tuck safely away onto my hard drive.
…working on two children's books that I hope to get the guts to finish and publish by the end of the year.
Perhaps sometime soon I might sigh and shake my head at some of these projects, chocking them up to "just part of the journey," but man, today I am pretty pumped about all of them.
Crafting any new skill and beginning any new creative journey takes time. It takes a lot of wrong turns and a lot of reflection. After all, how do we truly know we've made a right turn until we've already taken the wrong one? Or wrong ones.
Lesson: I am more vocal about my writing, and about how I love being a writer, than I used to be. But don't mistake that for the fact that I just started this crazy journey.
I'm not really sure the point of this story, other than to say: embrace your journey. It might be filled with weird twists and embarrassing turns, but it's yours. And it got you to the place you are today. And you wouldn't be where you were today if you didn't first take action, even if you weren't sure at first if those initial steps were the right ones. You took them anyway. And you learned. And that's AWESOME.
You are smarter because of those experiences. And, I'd argue, more interesting.
Embracing your creativity rocks. Yeah? :)
Hugs,
AS
—