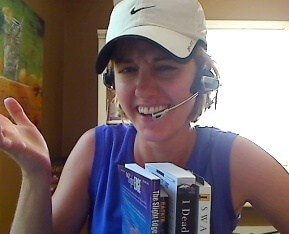 Woohooo we're on to number two! Teens/tweens, hurricanes, and my one of my top 3 favorite books – listen in, because this episode is craaazy.

reads Podcast – Episode 002
(Clicking the link above will automatically launch and play the episode.)
Shout-out to a commenter from last week, the lovely Ms Cheryl Sweeney, who has finally convinced me to stop my 7+ year procrastination of what appears to be an awesome book.
Stay tuned next week for 4th of July shenanigans and one of the worst personal development books I have ever read.
Question of the Day! –> "Do you read physical paper books, digital books, or a combination of the two?"
——
Episode 002
Sponsored by…little 'ole me :)
Recommended reads:
The Slight Edge: Secret to a Successful Life, by Jeff Olson
Just Picked-Up reads:
The Westing Game, by Ellen Raskin
For Fun reads:
1 Dead in Attic: After Katrina, by Chris Rose
Current reads:
Sway: The Irresistible Pull of Irrational Behavior, by Ori & Rom Brafman
Also mentioned…
What Should I Do With My Life?, by Po Bronson