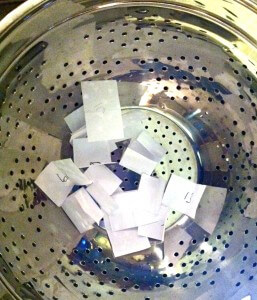 Well looky here, just when I was finally getting used to having five of you lovely readers instead of four, nineteen of you showed your darling faces last week. Nineteen!
You guys rock.
The Lifestyle Design book giveaway requested that you answer the question, "What does lifestyle design mean to you?" and share that answer in the comments.
Three commenters would be chosen at random and win their choice of book from my overflow bookshelf.
Because it is overflowing. You guys, it's…it's…it's…
Let's not talk about it.
There were nineteen of you. I wrote one through nineteen on strips of paper, threw them into the stainless steel strainer I nabbed from the sink – Hey, it was the closest containery type thing, and kept me from having to run upstairs to grab a hat. See also: I'm lazy. – closed my eyes, and plucked three of them out.
Correction: I plucked four of them out.
Bonus!
The three four lovely winners are:
Craig Timmons
"Lifestyle Design ~ to me is having the awareness & courage to step out into this world and create the life you truly want / dream about, noting we're all designing our lifestyle everyday ~ we simply may not be aware we are :-) here's to everyone Designing Awesome Lifestyles that send them to bed and awaken them with :-)s ~ enjoy your city adventure, Annie!"
DebNorfolk
"Lifestyle Design for me is choosing to LIVE MY BEST every moment of each day! The Freedom to be flexible yet structured!! Living Balanced through my Spiritual,Physical,Mental & Financial Desires! Creating Great Relationships with Family & Friends…..taking care of my grandson Rush (the Next Generation….very important to me)….cooking something really yummy….keeping a small portion for myself and taking the rest to neighbors & friends unexpectantly!! Simply Living with Joy!!! =)"
Danny
"Lifestyle design to me is deciding what is most important in your life and doing whatever it takes to have time to do that most important thing your life. I personally like working, so I don't think less work would be my choice. What I would love is to work on a variety of projects of my choosing and still having time to go swimming with my kids."
Nancy
"Books are to be shared! Lifestyle design is dreaming and having those dreams come true"
Congrats, all! Send me an email at annie AT anniesorensen DOT com to claim your prize. If I don't reply within 24 hours, please please please try again. I don't want to miss you.
Thanks for taking part in our fun 'lil giveaway.
To me? Lifestyle design is getting to spend as much time as I can with lovelies like you.
(Awwwww.)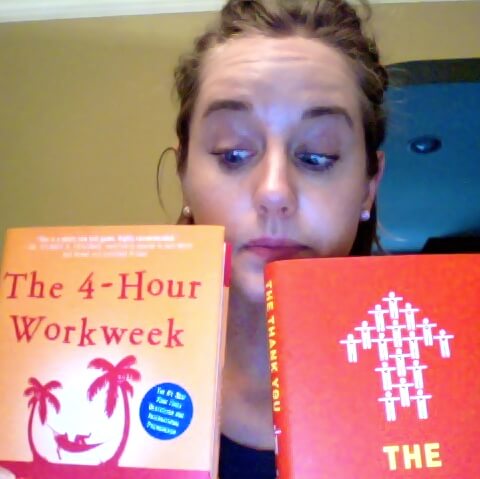 (Sorry.)