Maybe because my shelves are overflowing and something needs to be done to remedy the situation, lest they come crashing down.
Or maybe because I'm in a giving mood. Or a somber mood. Or a happy mood. Or I'm just…moody.
Maybe because I'm reading What difference do it make? and it makes me feel all warm and fuzzy inside.
Or because it feels like a Tuesday even though it's already Wednesday. Bonus!
Or perhaps because I'm flying out oh-dark-early on Friday morning for a fun city I've never been to and am pretty pumped about it. And I'll get to see old friends. And make new friends. And create new ideas. And maybe learn a thing or two in the process. And maybe just maybe I booked myself a fancy schmancy room in an award-winning boutique hotel right downtown, and spoiling myself is fun.
And all of that makes me happy.
Or maybe because you deserve it. All five of you, my lovely, lovely readers.
But today I thought I should give something away. A giveaway! I am often gifted books, or sent them for promotional reasons, and when you couple that with the fact that I tend to purchase books on my own immediately upon their release, I often end up with duplicates.
In some cases, multiplicates.
(WordPress says that isn't a word. I disagree. The end.)
Here's how it works: Comment below, I will choose THREE comments at random, and if you are one of those three you will be the lucky recipient of…of…of…
A book of your choice!
Ok, let's clarify that a bit. It's not any book of your choice, it's your choice between one of two books:
The Thank You Economy Gary Vaynerchuk
or
The 4-Hour Work Week: Extended and Updated edition Tim Ferriss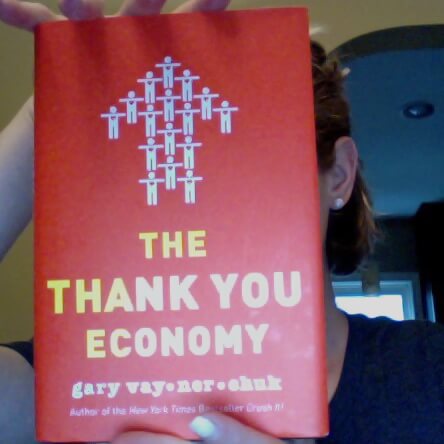 This one
or

this one.
Comment below. If you're chosen, pick your book, and I'll send it right to your lovely doorstep. Easy as pie.
You should comment. You really should. Because I love you, all five six of you. Oh, and you deserve it.
What should you comment about? Glad you asked. Share your answer to the question:
What does lifestyle design mean to you?
There are no wrong answers. It could be something like "financial independence" or "doing what I want when I want" or it could be something more straight forward, like "family" or "travel." Share whatever first pops into your head.
Comments will be closed at 6PM CST on Thursday, June 2nd. The winners will then be chosen and notified.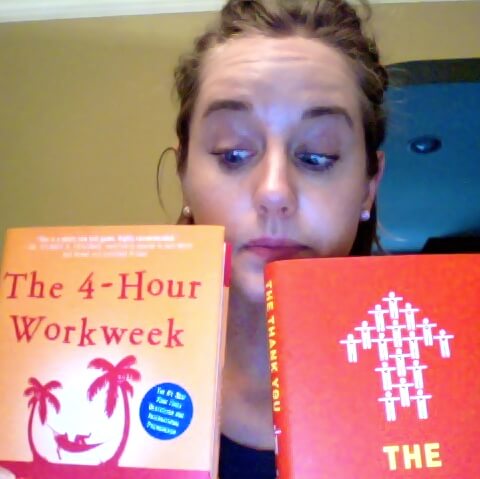 Good luck!
——
UPDATE: Comments are now closed. Thanks, all! Winners announced soon.