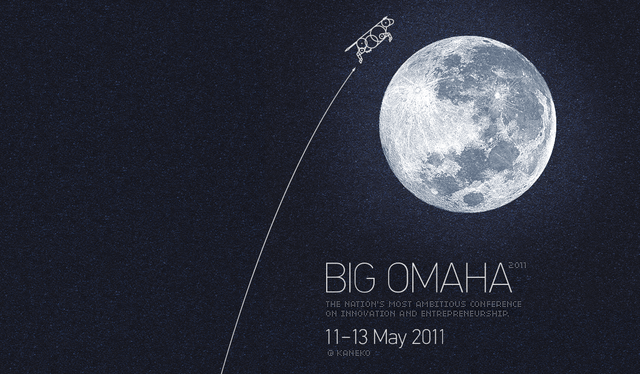 Greetings from (rainy. very very rainy.) Omaha!
I'm excited to get to spend the next couple days learning and networking and drinking coffee at Big Omaha. In its third year, this conference is "the nation's most ambitious conference of innovation and entrepreneurship." Also, it rocks.
If you're in the Midwest, or if you're entrepreneurial-minded, or if you just like learning something new, I'd encourage you to follow along Thursday and Friday.
The best place to do so? Twitter.
Follow the #BigOmaha hashtag or @BigOmaha mentions.
Additionally, keep tabs on SiliconPrairieNews.com for posts and articles related to happenings at the conference. They won't be livestreaming the talks this week (but they will be recorded for you to watch later), so Twitter will really be the best – and only – place to catch knowledge nuggets in real time.
Follow along, yeah? You'll hear opinions and 'overheards' from those in the audience, in addition to pieces of the talks from entrepreneurs from all over the country. The full list of speakers and their bios can be found on BigOmaha.com.
Oh, and one more thing, I must warn you – you might catch my crazy mug on the Big Omaha homepage. Do not be alarmed! Objects in mirror are closer than they appear.
Wait. What?
I attended Big Omaha last year and, unexpectedly, my friend Andy forced me to stand in front of a camera for a few minutes. The footage that I thought would never see the light of day kind of, umm, well, ended up very much seeing the light of day.
Eek.
Looking forward to seeing/chatting/tweeting you tomorrow!
Learning and networking. We will be doing.