I'm almost done reading Happier At Home, the second "happiness" book from Gretchen Rubin. Her first, The Happiness Project, I enjoyed reading, but found a bit dull at times. This book I'm enjoying much more for some reason. Maybe I'm in a different place in my life? Perhaps it's because I'm at home most of every single day playing mommy and wife and squeezing in Vemma and writing and real estate? Perhaps I'm simply enjoying it more because the book is just a bid more casual and laid back. Who knows.
Anyway. I haven't been underlining passages in this book, something I do in almost all non-fiction I read, but a line I read earlier this week caught my eye. I actually got my almost-seven-months-pregnant self up from the arm chair, walked to the desk, grabbed a pen, and walked back. The quote was actually not from Rubin herself, but from another author she was referencing:
"My mind works in idleness. To do nothing is often my most profitable way." – Virgina Woolf
How true is that!?! I practically said AMEN when I read it.
My mind. It *totally* works in idleness.
I get my best creative ideas in the shower.
I do my best planning while outside on a walk.
I can visualize and strategize like a pro when I'm driving down a lonely interstate. (Carefully, of course, Mom. Very carefully.)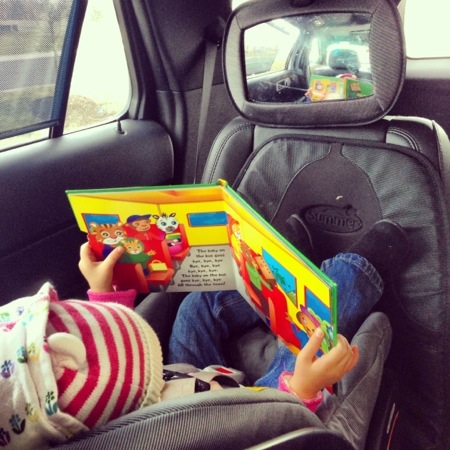 I often get out of the shower or get home from a walk or hop out of the car and run like a crazed chicken to my laptop or journal or scrap piece of paper in an attempt to save some of the amazingness that just ran through my mind.
I am seriously productive when I'm not doing a damn thing. No cell phones, laptops, dishes, to-do lists, or energetic toddlers.
Are you like this? Do you let your mind sit idle often enough? Even though I know that I can be incredibly "productive" when I'm not doing anything, I know I don't do it as much as I should. I definitely don't plan it very often, if ever. However, a shower and a walk and a drive aren't planned idle times, really.
Can you plan idle time?
Sitting on the porch by myself with nothing to read or look at or distract me is hard to do, at least for more than a moment or two. Even then, if I did accomplish it, the fact that I could immediately change my surroundings and grab a distraction kind of ruins the whole affect. After all, I'm pretty sure the productivity that comes with idleness only occurs when you let your mind fully relax and run where it wants to. One hour into a three hour road trip, where there's no turning back or getting out, accomplishes that.
So that piece of this equation still needs a little sorting out. The chosen idleness part. The planned part.
Until then, I think I'm going to try and embrace the forced idle times a little better. Sometimes mind-wandering truly can be so worthwhile.
Don't you think?
—
Do you get your best ideas in the shower too? I wrote the entire text of my children's book, the idea of which had never occurred to me before then, in the shower last May. BK Boreyko came up with the idea for a crazy healthy energy drink, now the product behind a more than 100% growth in company-wide sales over the past year, in the shower a few years ago. Nowhere near as major, but I did some great strategizing a few weeks ago while on a road trip with my punkin.
Psst…quote from page 138-139 of the hardcover version of Happier at Home.
Your thoughts?
Am I the only weird one?
Do you think fabulous stuff while driving? Or working out? Or, umm, bathing?
Sending great and weird thoughts your way,
AS
—