"Tomorrow you write the 1st page of a 365 page book. Make your story count." – Art Jonak
Mmm, the sharp smell of a brand new notebook. Its binding sturdy and cover unblemished. The pages are blank, ready and waiting for scribbles and script. It will soon record the year's events. The large ones and small ones, the happy and sad, the mundane and the milestones.
But today, this third day in January, it's still fresh. The new paper smell still sweeps over you as you open its cover.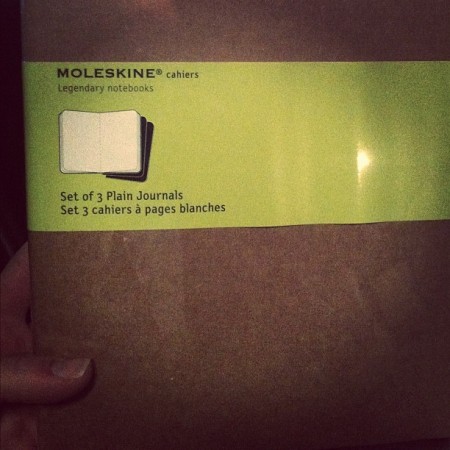 I'm looking at this notebook and soaking in that freshness. It's smell is sweet. Refreshing.
—
The book of 2012 closed its cover happy and full.
In business, we invested in a movie, continued to support our network marketing team, and got our second rental property up and running. In writing, I wrote for SPN from January through December, journaled more than I ever have, posted here on AS.com a few times a month, and somehow managed to write a fifty thousand-word novel. Most importantly, personally, we welcomed a happy, healthy baby girl in May and leaped into parenthood with our arms open wide and our fingers clutching our wine bottle opener.
I would say that it was a great year, but I think that goes without saying. It was monumental.
Looking forward, we have another lengthy tome planned. A few thoughts on what I hope my book of 2013 says come next December 31…
Less wallowing. Bring on the personal editorial calendar. I want to eliminate the time spent wallowing in indecision and daily planning in regards to my writing. Remove the fog. I write for SPN and AS, I write in my journal and in my daughter's journal, I write regular motivational and informational messages to my Vemma team, and I have freelance projects here and there. This chaos has got to get organized. If my writing is prioritized and scheduled, I'm confident that my productivity will practically double.
Becoming more present. Blah blah blah the typical mommy battle. Separating time with my child from time with my computer, and continually bettering my ability to not feel guilty about one when I'm with the other. It's a constant fight, I realize, but one I want to be calmer about and more confident with the effort and progress I'm making.
Continual kindness. I started a list for #26Acts in honor of Newtown and tacked it to the front of our fridge. Over the past week or so I've added several items, numbering them as I go. I look at the list every time I walk through the kitchen, every time I walk in or out of the back door, and every time I reach inside the fridge for the water pitcher. Translation: I look at the list a bazillion times a day. It finally occurred to me today that kindness, and kind acts, should be a part of me. Why did I have to give myself a reason – you could even call it an excuse – to do them and then record them on the list as if I have to turn in the assignment at the end of the month for a grade? Shouldn't it just be a given that I go through my day with a heart for kindness, dripping kind acts onto others?
I took the list down. It didn't make me happy to think about doing acts of kindness simply because I had to finish my list.
A few more specific goals…
Vemma growth. I maintained our business throughout my pregnancy and first eight months of my daughter's life. It's time to ramp things up. It's time for growth. There are a lot of people to help and I'm not about to keep quiet about what I have to offer. 2013 goal: 40% increase in team members and monthly income.
Another investment property. Hubz has his mind swirling over an apartment complex. Eek! It's going to take creativity, but we're up for the challenge.
Writing. Continue contributing to Silicon Prairie News. Increase consistency with posts here on AS.com with one every week, publishing every Thursday. If I reach that, work towards a Monday and Thursday schedule. Earn $1000 a month freelancing. Have something published in a magazine. Have something published on a major online news site (think Forbes or Huffington Post). Take steps towards actually doing something with the three childrens book outlines I've written.
(Yikes. That list scares me.)
(But I suppose that's the point, yes?)
Bring it on, 2013. 365 pages. We're on page 3. Let's do this.
Cheers to a new year, a new you,
AS
—
So, that's my list. What's on yours?
What can I do to help you fill up your book of 2013 the way you picture it?
—