Beyond the obvious (my family), my number one source of inspiration, creativity, and joy lately is my home.
I know! Who woulda thunk it.
My creativity the past couple years has really centered around our home. It has inspired me to paint, craft, create, imagine, re-do, and experiment in ways that have stretched my brain and made me smile. And don't even get me started on the number of trips to Hobby Lobby. I have never simultaneously hated and loved a store more in my entire life.
I suppose having children and the changes that went along with that – my time, focus, love, priorities – started the shift. I'm not really sure. All I know is that if you told me I had a babysitter coming over in five minutes to take care of my kids and an assistant to take care of my To Do list, I would hightail it to the closest home store and get lost for the entire rest of the day. And I would be swinging through Caribou first for a dark chocolate mocha, but I'm pretty sure that's a given.
When I wake up, I want to paint something.
When I have a thirty second break during the day when the girls are eating or sleeping or playing quietly, I want to read design blogs.
When we're finished with dinner and the girls are in bed, I want to pour that glass of wine and wander up to our attic closet to stare at the pile of currently unused decorating accessories, sipping away and scheming which table/shelf/wall I want to attack next and how I can totally remove the back of that frame and paint the inside with that test pot of that grass green color I picked up at Lowe's last year and then mount that sand dollar I picked up on Kiawah Island in the middle and add it to the gallery in EJ's room and…and…and…
It's not just a love of all things home, as I've always loved "home stuff." Before, that love was lived out by the parusal of Pottery Barn catalogs and the twice-yearly jaunts around the local spring and fall homes tours. Today, it looks different. Today it's more hands-on, involving more personal touches, more meaningful pieces, and even things I thought I would never be into, like creating my own curtains and picking up furniture pieces at thrift stores.
I want to create. Writing is hard for me right now and takes dedicated, forced focus. So my home is the next easiest target.
What's even better: this newfound love of all things home is bubbling up inspiration in other areas of my life, too. Gifts? Thoughtful gestures? Cooking? Baking? Book selection? Real estate? Marketing? Everything from what I now gift to my husband to what I contribute when attending a dinner party to how I brainstorm our next real estate move is the better for it. I'd argue that even the contents of my Amazon shopping cart are more fun and interesting because of it.
It's fun. And all of it is yet another wonderful way to embrace the directions my mind wants to go. Our home is new-to-us, needs a full remodel, and is years away from being complete. I'm not a professional designer or decorator. Nor an artist.
New mantra: it doesn't have to be perfect to inspire. Me or others.
Also: it doesn't have to be perfectly complete to satisfy.
This is my attempt at hugging it out with our Still Very Brown foyer. Giving love to an ancient IKEA lamp and a picture frame I've had since college displaying an Etsy artist's shot of one of the famous clocktowers in KC's Country Club Plaza. I smile every time I walk by the silver bowl (purchased at a Minnesota lake boutique) filled with lake rocks (I pick them up. I'm weird.) sitting atop a lopsided pile of books.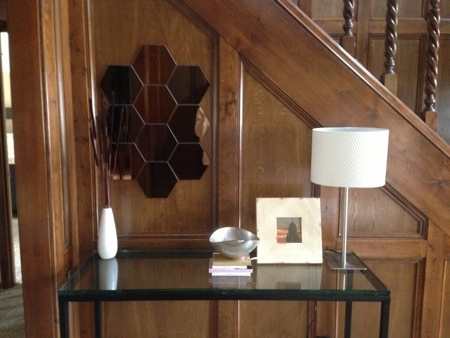 Accidental selfie. #smooth New IKEA mirrors that my daughter helped me arrange and stick to the wall. I think about her every time I see them. Pebbley vase from same Minne boutique, filled with faux cattails. I heart Minnesota lake country. This table proves that. The end.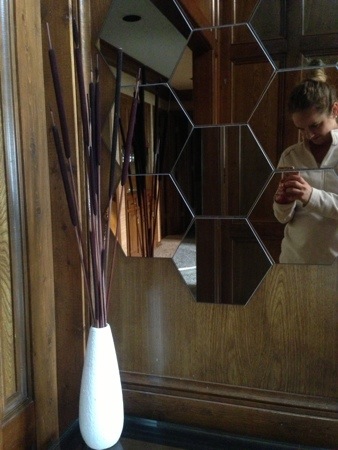 Blown up iPhone photos (except second one from the left, which is courtesy of our wedding photographer) printed at Costco, Mod Podge'd onto discount canvas from Hobby Lobby, stamped on top with another canvas and more MP to create a canvasy feel. Moral of the story: everyone thinks the images are really printed on the canvas and everyone and their dog comments on this wall of photos when they visit our house. EVERYONE.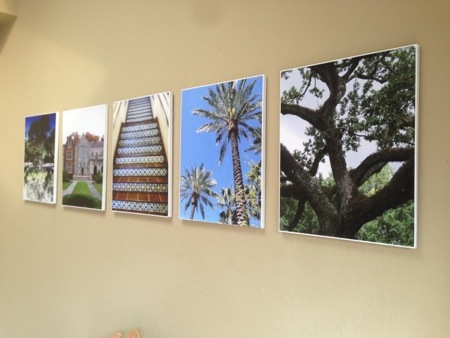 It is seriously one of the most commented upon things in our entire home, which I think is a riot because, umm, our sunroom looks ATROCIOUS. Not decorated. Not updated. Not…anything. Except for these photos on the back wall, that are really only there because they looked too crazy and distracting on the fireplace mantel where I initially planned for them to go. Seeing the photos reminds me of two things: 1) the memories made on each trip during which the photo was taken, and 2) that Addy helped me hang them up and was SO PROUD of herself for doing so. Worth it. Time not wasted. I think I might actually have pics of her helping, hold on…yup, here they are: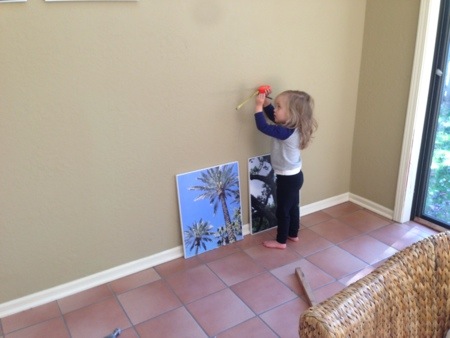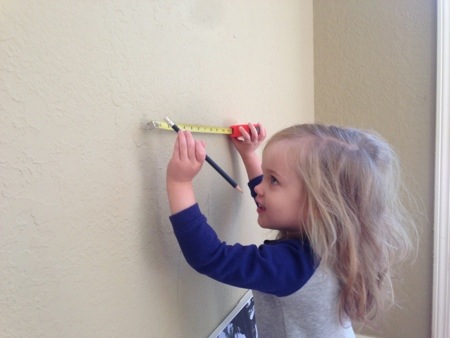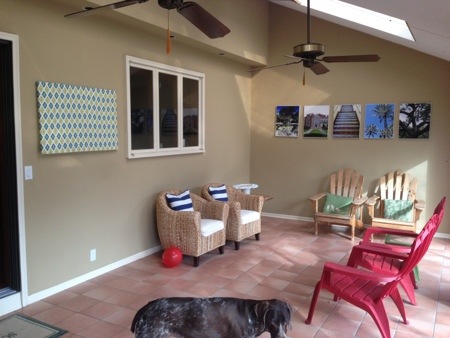 A (getting there) organized playroom, finally, that thrills both girls to no end. And is grounded by the rose pink rug that used to be in Addy's first nursery in our old house. #tear The clock was a wedding gift. Fabric is IKEA that I literally just stuck to the wall with tape, but it has leaves on it. I have a thing for leaves. And trees! Leaves and trees are my jam. Framed posters my husband has owned since is his first apartment right out of college.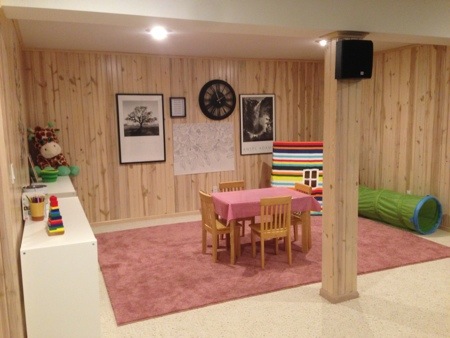 Special dates artwork I made in MS Word, colored-in our wedding date with a red pencil, and stuck inside a shadow box we already owned with the glass removed.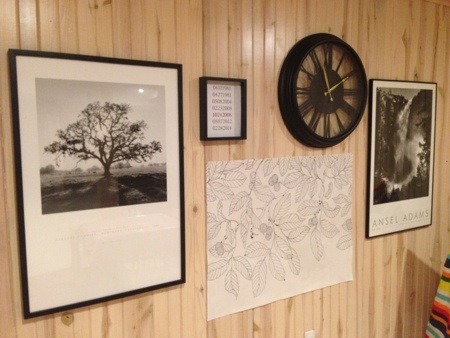 The Tiffany-style lamps over the basement bar wouldn't have ever been something I chose, but I like them and plan to keep them. I like seeing them and thinking about the history of our home, how it's ours now but how Ours Now is affected in small lovely ways by It Was Once Theirs. That's kind of cool to think about. Wine cork S I made while we were still in the old house, because Hubz threatened to throw out all the corks if I didn't do something with them. During the move I had to transport it in my car, as I was afraid that the 59.7 hours spent gluing the corks would be lost if I tried to pack it into a box for the moving company. I mounted it on black fabric inside an old frame I think I purchased from Michaels five or six years ago.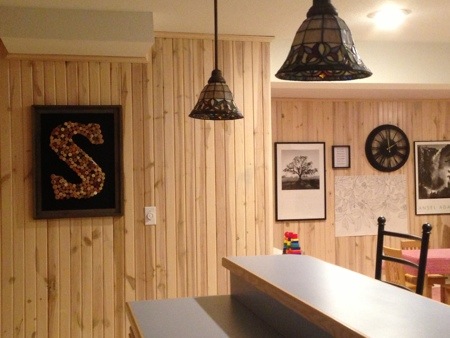 Pretty toys make me happy. Vases I once purchased at a small art show before I had children, now filled with said children's colored pencils, also a happy-maker. A full series of good children's books, yes please. (Will you marry me, Sandra Boynton? Why do my kids love your books so much? Why do *I* love your books so much? Please divulge your secrets. Thank you.)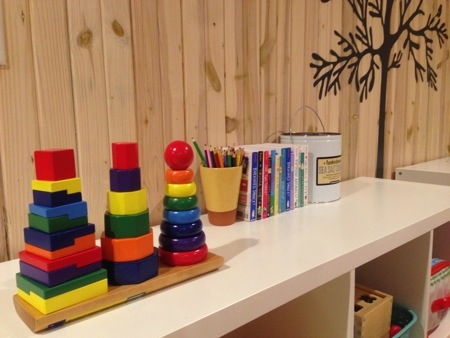 My home is equally a source of and result of my inspiration, which is cool. There are a million quotes about houses and homes and how they mean so much, and I agree with just about every one of them. It's a special place, this place where we lay down our heads, where we live our lives, where we create.
Hope to share more of it with you soon.
—
What's inspiring you lately?
Hugs,
AS