A friend asked me earlier today what 5 business or personal development books I would recommend. To that type of question I could come up with a bazillion different answers. They would vary drastically based on the who, the what, on the experience and the interests.
So, to narrow things down a bit and considering that the holiday season is upon us, here are my:
5 Book Recommendations for Curious, Open-Minded, Personal Development Newbies
1. The Slight Edge
It's simple and profound – which, isn't that what we want with ANY book? – and easily applies to any area of business or life. A great book for beginners.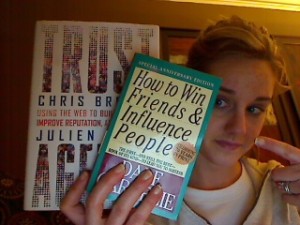 2. The Go-Giver
Before, being a Go-Getter was a celebrated personality trait. Not anymore. An eye-opening and educational read.
3. How to Win Friends and Influence People
A classic read. Sales is everything and everything is sales, and the key to selling? Whether it's a specific product or just yourself? People that know, like, and trust you. Have a grasp on how to develop those three things and success is yours.
4. Outliers
Complete honesty – this one's still on my To Read shelf. However, I've learned enough about it to know that anyone with a curiosity about the psychology of success would enjoy it. A necessary and fascinating read into what affects – and what does NOT affect – your chances of success.
5. Trust Agents
Yes, we live in a digitally connected world, but the concepts in this book can truly apply to being an agent of trust online or off. Not only is it one of the few books I've read this year that keeps me thinking months after turning the final page, but the more I think about it the more I'm fascinated by it's application to newbie entrepreneurs and experienced veterans alike.
Disclosure: All links are Amazon affiliates.
So, what do you think? What books would you recommend to a budding entrepreneur? What would you recommend to an experienced business expert? Is the list the same? Do you plan to give any books as gifts this year?