Lakeside. 9 days.
It was a great week.
Now, I'm ready to get back to work.
I love my work.
Hubz said he's not. Ready to get back, that is.
He, umm, doesn't love his work.
I'm working on that.
I wrote a little. Blogged a little.
Thought a lot.
Relaxed a lot.
Read A LOT. Typical.
Fishing, floating, boating, sunning.
Snorkeling, fixing, shopping, eating.
Reading, playing, talking.
There was putt-putt at a newly discovered course and a couple giant Northern's that got away.
A couple dozen Sunfish plucked out and fileted and fried, new trees planted to fill the holes, pictures taken, and beach gossip discussed.
A couple rainy mornings.
Many warm afternoons.
S'mores by the fire.
One lone firework tested, still good after living in the cabin for most of the last decade.
Four cases of Corona, eight bottles of wine.
Dinner on the Weber, fried food from the pub down the road.
Books completed by one, traded, then completed by another.
Projects for next year discussed, the constant cabin game.
Evening walks and boat cruises.
Pictures of sunsets.
There was laughing. Canine-related laughing.
Laughing at my parents' dog as she routinely ventured out to sea in chase of the nine ducks that had taken residence on our stretch of beach.
Laughing as, lost in an unexpected cloud of exhaust from the ancient boat, she spun around and fell off the dock, sinking like a stone in her surprise.
It was a great week.
This was a week of vacation. A specific time away from it all.
Someday, when It happens, it will be different.
It. My someday reality. Our someday reality.
As someday a place like this will be reality. Not vacation. A place like this – with family, an outdoor landscape, a destination location. And we'll relaxingly incorporate the vacation into the real life. Real life into the vacation.
A few weeks of every summer?
6 months of every year?
Every day of every year?
I'm not sure. But it will be something.
Closer and closer to it every day.
Life is already grand.
It's getting grand-er.
Fishing, floating, boating, sunning.
Snorkeling, fixing, shopping, eating.
Reading, playing, talking.
Laking.
Contemplating.
Future-ing.
It was a great week.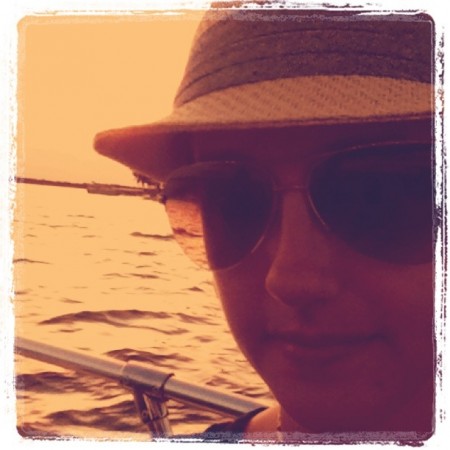 ———
This has been a Ridiculous, Halfway-Poetic Journal Entry brought to you by the scribbles in Annie's notebook. It's kinda dangerous in there, kids. Don't forget your safety goggles.