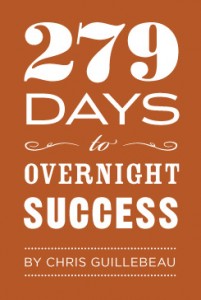 Last weekend I sat down to read the free ebook from Chris Guillebeau, 279 Days to Overnight Success, and it didn't disappoint. Chris is a blogger, bestselling author, travel junkie, and all-around inspiring guy. His main passion is spreading his message of non-conformity, that "you don't have to live your life the way other people expect you to."
See why I like this guy?
The ebook is free and doesn't require you to fill out a long form with all of your contact information or anything. Its 79 pages are full of inspiring stories and facts about how Chris built his blog, strengthened his brand, avoided the negative "vampires" who told him he couldn't do it, and developed a full-time income stream in the process.
If you're a blogger or have ever wanted to be a blogger, and wouldn't mind making more money, you might want to check it out. Even if blogging isn't your thing, check out Chris's site. I think you'll find it fascinating and well worth your time.
279 Days to Overnight Success, free ebook: Details | Download
——
Also, I recently read Chris's published, full-length book The Art of Non-Conformity: Set Your Own Rules, Live the Life You Want, Change the World (affiliate link) and would highly recommend it. It's a short and sweet read full of actionable recommendations.
I learned how to further define the terms of what I want my unconventional life to be (more emphasis on community service, family, maybe book publishing, less emphasis on where I'm living and travel), was inspired by the stories of how Chris has built his business around his life (instead of the other way around), and wrote down a dozen ideas for how to grow my blog, strengthen my networking contacts, and get more done in less time.
Also, Chris's plan for the One-Year, Self-Directed, Alternative Graduate School Experience is worth the cost of the book alone.
Happy reading.