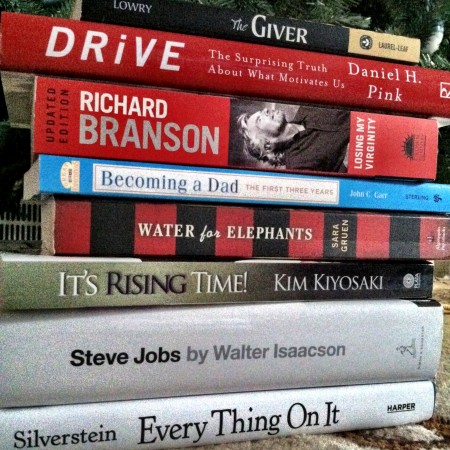 Books books books! That's what Santa brought me for Christmas this year.
I mean, how did he know? Such a smartypants, that guy.
Babygirl pulled in an impressive percentage of the sixteen total books that the man in red brought me (she's off to a good start), so here are the newest additions to my To-Read shelf:
The Giver, by Lois Lowry
Drive: The Surprising Truth About What Motivates Us, by Daniel Pink
Losing My Virginity: How I Survived, Had Fun, and Made a Fortune Doing Business My Way, by Richard Branson
Becoming a Dad: The First Three Years, by John C Gaff
Wait, how'd that get in there? I must have a talk with Hubz about keeping better track of his books.
Continuing on.
Water For Elephants, by Sara Gruen
It's Rising Time!: What it Really Takes to Reach Your Financial Dreams, by Kim Kiyosaki
Steve Jobs, by Walter Isaacson
Every Thing On It, by Shel Silverstein
I'm excited about each and every one of these. For business reasons and fun reasons and feel-good reasons and nostalgic reasons.
Now if you'll excuse me, there are new paperbacks in the house that have yet to be sniffed.
Yours in Book Geekiness,
AS
What about you? Pick up any good reads over the holidays? Any must-reads on your list for 2012? Do share!