Last week the girls and I went to Costco.
Wasn't that a great story? Ha! You're welcome.
Ahem.
After we sort of not really ignored the deliciousness in the front aisles like the chocolatey granola bars and the sea salt pita chips and those dark chocolate covered acai berries that taste like heaven, and after we successfully made it through the side aisles full of the vats of olive oil and ketchup and the freezer section (organic frozen beef burritos! Amen.) and swung past the meat section and ohh'd and ahh'd over the six pound packages of blueberry muffins that are the size of my head in the bakery, we threw away our now empty sample cups of white cheddar cheese popcorn and headed up the main aisle towards the check-out.
And then we saw it: the book section.
Why do I *always* forget about the lovely book section at Costco? It's like a pleasant little surprise icing upon the confetti cake that is a trip to Costco.
So I did what any good book geek would do: I ignored my whining children, whipped out my phone, and took photos.
Walk with me!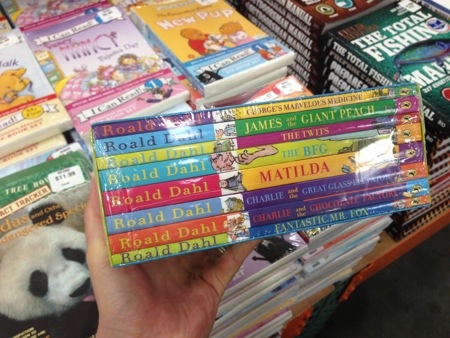 How cute is this collection of most (all?) of Roald Dahl's work? I owned a few of these as a kid, but what a fun gift. I kind of want to read them all again. I love how this set is filled with the super popular Matilda and Charlie and the Chocolate Factory titles, along with lesser known reads like The Twits and Fantastic Mr Fox. Seeing this made me smile.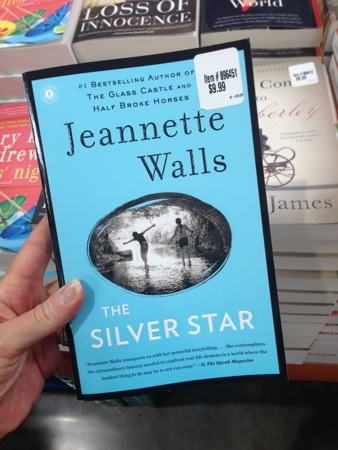 Ohh, Jeannette Wells has another book out! Who else read one of her first and most popular books (and also a memoir), The Glass Castle? I still think about that book years later. (Lard sandwiches! Omg.) Her second book, Half Broke Horses, has been on my list for ages, and now this one is too.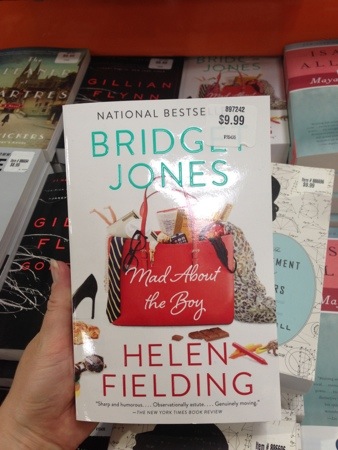 Man. I'm going to have to read this fluff, simply because I now know it exists. Does anyone else have this internal requirement that they have to read all titles from an author, especially all titles related to the same central character, simply because they read one of them? Ugh. I gobbled up the Bridget Jones books in college, and now it appears like I'll have to put a beach vacation on the calendar just so I won't feel guilty spending a few hours with this one. #problemsofanuptightreader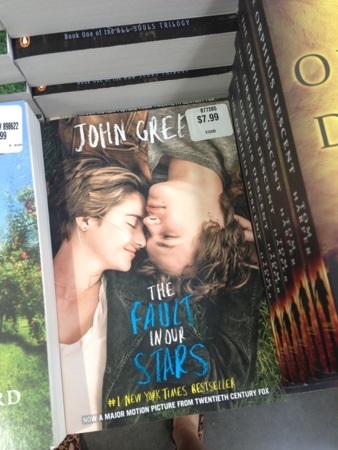 Been on my list forEVER. Makes me sad in a weird way when book covers are changed to their move tie-in versions. I love Young Adult lit. That is all.
Oh wait! I follow John Green on Instagram, and his excitement and amazement a few weeks ago when the movie was premiering was, for the lack of a better word, adorable. It was so cool to follow.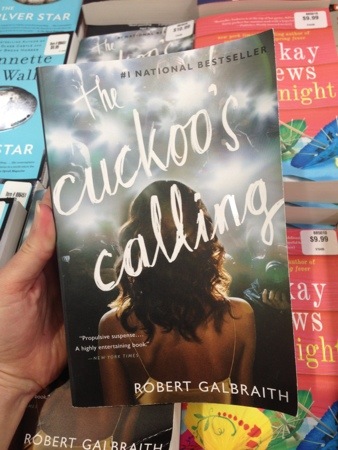 Robert Galbraith, the pen name of JK Rowling from Harry Pottery fame, has received pretty good reviews for this book. It's the beginning of a series featuring this book's central character, Cormoran Strike. My mom really, really liked this book, and her copy *may* have just appeared on my doorstep a couple weeks ago. When mom sends you a book without asking, well, there's no stronger recommendation than that! Also, how amazing is that moment when you realize that someone sent you a package in the mail? Another also, my oldest punkin now shouts "PWESENT!" every time I walk into the front door carrying a box of some kind. Love how sister gets excited about deliveries, even if they are just an enormous box of size 5 Pampers or the canine's flea and tick medication.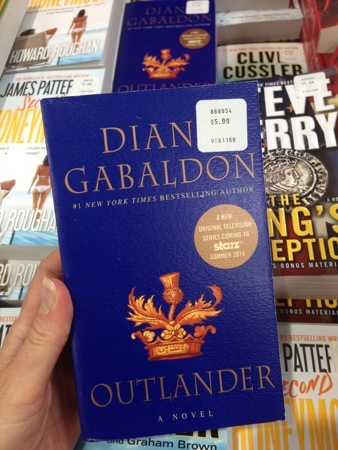 I feel like I've seen this book everywhere lately. Why have I seen this book everywhere lately? Is it a bestseller? Has it been featured in newsletters or magazines or something? I'm not sure what it is, but I feel like it has to be good.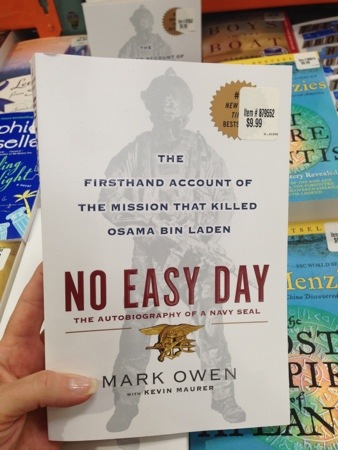 This is exactly the type of book that Hubz finds fascinating, and he read this one last year. If I remember correctly, he said it dragged on a bit, but overall was really interesting. The kind of book that makes you go wooaaahhh.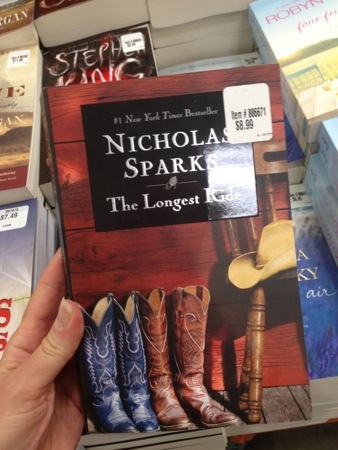 You know the whole must-read-all-books-from-an-author problem I mentioned? Yeah. Nicholas Sparks falls into that category. And I'm not even sure why, as none of his books involve repeat characters. I did read his memoir, Three Weeks With My Brother, last year, which I really enjoyed, so perhaps that's why I now feel like I have to read every one of his titles. I read about his life (heartbreaking at points) and I read about his writing and what launched his career (utterly fascinating and encouraging). I'm personally vested! Ha. Plus, I argue that there isn't any better beach reading than Sparks, and not in the so-fluffy-it's-dumb way, but in a lovely-enjoyable-relatable-characters-and-easy-to-read kind of way.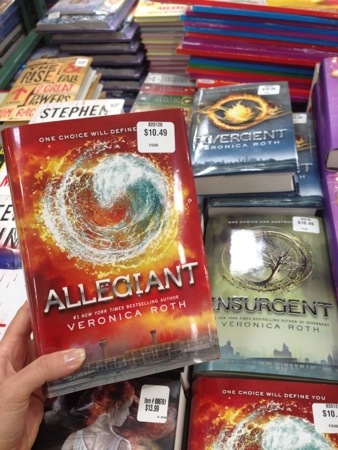 Allegient is the third book in the Divergent series (Divergent was first, then Insurgent was second). I really enjoyed Divergent; it was creative and fast-paced and interesting, and something I took down in just a couple of days. The series is similar to Hunger Games – female heroine, distopian future, upheaval, etc. I have to admit that I took this photo before I read books two and three, and now that I'm writing this I have read books two and three. Looking back on the series as a whole, it gets an Ehh rating from me. The first book was fantastic and the other two felt like they were forced a little bit. Also, it made my head spin with the casual mentions of character after character after character that had no development but that I was supposed to remember the names of. Nothing drives me more crazy than being two hundred pages into a book and still not remembering who Joe is or why Sylvia is important.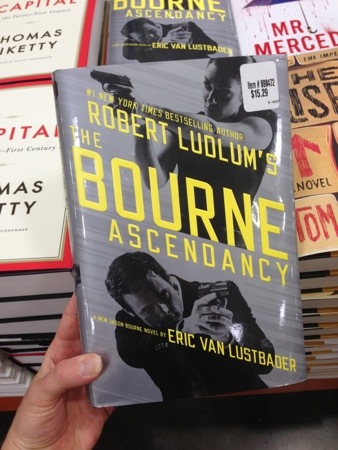 Does this mean there is going to be another Bourne movie? Yessssss.
Thanks for taking this walk with me, friends! I survived that jaunt into the Costco book section without adding a single title to my shelf, although I did have to pry open the 2 lb. box of Frosted Mini Wheats before we even made it to the check-out…
Hugs,
AS
—